Billy Hope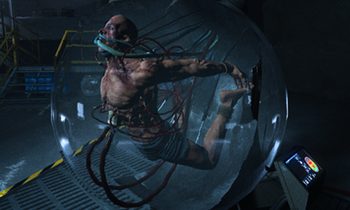 ---
| | |
| --- | --- |
| Status | Deceased |
| Died | 9/18/2013 |
| Affiliation | The Walrider |
---
---
| | |
| --- | --- |
| Type | Antagonist |
| Appears In | Outlast, Outlast: Whisteblower |
William "Billy" hope is the first antagonist encountered in the game, and is The Walrider's first host. He has a document about him titled "Billy Hope".
Background
Billy Hope was a patient of Mount Massive Asylum before his turning into a variant. Of note is the fact that his mother had a lawsuit active against the Murkoff Corporation, suggesting that Billy's presence is as much one of a lab rat as it is punishment for his mother's actions.
Outlast
In Outlast, Billy Hope is the first host of The Walrider, and is the primary antagonist of that game outside of Chris Walker. He was a focus on the Walrider Project, which aimed to bind the Walrider nanites to a living host. He was placed in the Underground Lab, and attached to various instruments and tubes while being suspended in a chemical bath within a glass sphere. Here, he is kept in a lucid state, after discovering he could control this lucid dreaming as part of the Morphogenic Engine, and thereby control the nanites known as the Walrider. After Miles Upshur kills Billy by stopping the fluids and turning off the power, he dies by bleeding out. Miles then becomes the new host for the Walrider collective.
Outlast: Whistleblower
Billy does not directly appear in the DLC, though he is mentioned. While Andrew is torturing Waylon Park with the Morphogenic Engine therapy, an assistant notes that "Billy Hope" has reached "lateral ascension".
Gallery