The Variants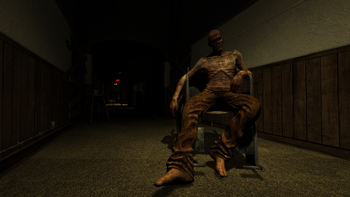 ---
| | |
| --- | --- |
| Status | Various |
| Affiliation | Unaffiliated |
---
| | |
| --- | --- |
| Gender | Males |
| Height | Various |
---
| | |
| --- | --- |
| Type | Various |
| Appears In | Outlast, Outlast: Whistleblower |
The Variants are the primary group of antagonists in Outlast, and are made up of Mount Massive Asylum's patients and inmates, as well as some former Murkoff employees, who have all been subjected to experiments with the Morphogenic Engine as part of The Walrider project. While they are generally considered antagonists, there are a few situations where Miles Upshur is helped, either directly or indirectly by the actions of a Variant, and they are thus classified as "unaffiliated" and "Various" as opposed to strictly "antagonists".
Overview
The Variants have been subjected to a number of cruel and inhumane experiments which has caused many of them to almost completely lose their sense of humanity as well as physically deforming them. The Variants react in very different ways to Miles & Waylon. Some are extremely aggressive & will relentlessly attempt to pursue & kill them on sight, while others will completely ignore their presence as if they are not even there. Some will also warn Miles or Waylon to stay back & will only strike them or become hostile if they get too close.
Abilities
The Variants are known to possess enhanced strength and endurance over that a of a normal human, most likely as a result of the experiments performed on them. This is the reason why Miles and Waylon are unable to fight back against them and must instead run and hide. The futility of fighting them is also mentioned early in the game by a dying Murkoff soldier. They can easily bash down doors and are able to kill Miles or Waylon in a couple of hits. Many of the Variants have also armed themselves with improvised weapons that they have scavenged or looted from around the asylum including pipes, clubs, kitchen knives and security batons, making them even more deadly.
They also seem to possess a degree of enhanced senses and possibly night vision, being able to easily navigate as well as track and pursue their targets through complete darkness without any light sources.