The Walrider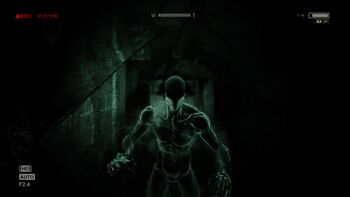 ---
| | |
| --- | --- |
| Status | Alive |
| Affiliation | n/a |
---
---
| | |
| --- | --- |
| Type | Antagonist |
| Appears In | Outlast, Outlast: Whistleblower |
The Walrider is the final enemy encountered by Miles Upshur and is the primary antagonist of Outlast. It functions as the deity of Father Martin Archimbaud's religion, and is behind The Variants.
Background
The Walrider is the end result of the Morphogenic Project. While it appears as a black, ghost-like entity, it is actually a collection of nanites, a swarm of nanomachines. The Walrider first manifested in Billy Hope, but was controlled in time by Billy through the lucid dream states achieved through the morphogenic therapy.
Characteristics
The nanites are incredibly powerful. While they can't be seen by the eye in small numbers, when they combine, they display themselves as a black aura, often taking a humanoid form. Miles can only truly see them using his night vision, which shows them almost as tiny little flies. The Walrider's power is amplified by its sheer numbers, allowing it to take down The Variants, Chris Walker and even squads of heavily armed tactical soldiers with little effort. The Walrider can traverse almost any obstacle, with the sole exception being decontamination chambers, which negate them temporarily - thus, the Walrider refuses to pass through.
Story
Outlast
The Walrider is the principal antagonist of the game, but is actually relatively rarely seen until very late in the game. The Walrider is shown a few times, but the main element shown is the staff responsible for his development, such as the controller, Billy Hope, Rudolf Wernicke, and Father Martin Archimbaud
Outlast: Whistleblower
The Walrider shows up first in the Hospital, and will attack Waylon on sight. For most of the DLC, he's just eye candy as opposed to an actual threat, though.